When I sat down initially I was going to produce a commentary on
Tentacle
Rape
'07, but as I considered what I was going to say, I realized that I didn't have anything new to bring to the proverbial table and that I would really just be following the trend. Considering the fact that I do that enough around these parts, I scrapped the idea and now I'm offering something else entirely.
Anyone who reads the mainstream Spider-Man titles these days is undoubtedly aware of the weird state of flux Peter Parker seems to be in these days.
First came "Sins Past." Then various power upgrades, a spot on the Avengers, and a couple of less than stellar crossovers. None of these have really set the world on fire. Add in Joe Quesada's self-made controversy surrounding Peter Parker's marriage to Mary Jane Watson, and you've got fans wondering why it is that the guys at Marvel can't manage to tell a halfway decent Spider-Man story that doesn't threaten to shake up the status quo.
And wouldn't you know, we've got another one of those coming up right around the corner. With "One More Day," Quesada and Strazynski promise to answer the "question" of the marriage once and for all as well as restore the character to glory.
What little fan response that I've seen of this story seems to be overwhelmingly negative - with Quesada's reputation as the Human Hype Machine and Strazyinski's Cardinal Sin, nobody seems to have much faith in the "event."
Despite three overwhelmingly successful movies and a household name, it seems like Marvel is constantly trying to fix some kind of percieved problem with Mr. Parker and his world. Either they're tearing down his past or constantly shaking up the status quo, and it feels like years since Marvel has put out a Spider-Man book that didn't promise to have long-lasting consequenses for years to come.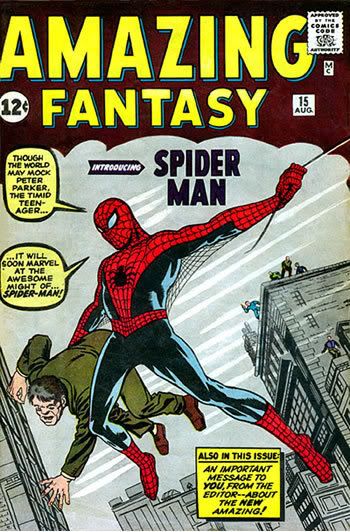 At the same time, it seems as though Quesada and his boys are constantly trying to bring Peter Parker back to some form of the character that they see as the Spider-paragon; some definitive interpretation of Spider-Man that is, like, the best one ever (and, consequently, the version they feel will be most marketable to the younger demographic). This paragon is young, hep, and above all, single. Quesada has repeatedly commented that he's in a bit of a pickle, however - he can't manage to figure out a way to achieve the "single" without sacrificing the "young" because, after all, there's no such thing as a twentysomething divorcee or widow. And what results is a Peter Parker who has this sort of identity crisis - he's a character who begs for forward progression, for the same kind of movement he's gotten in his 40-plus year history, but the higher-ups at Marvel seem to think that any kind of progression lies in a spiritual regression.
"One More Day" supposedly promises to fix all of that, but I guess we'll see.
I once saw it speculated - possibly on a blog, but more likely on a message board - that Spider-Man's role as a turncoat in
Civil War
would lead to neither side of the Registration Debate really trusting him, therefore forcing Pete to once again be the "loner" that he's been known as for most of his career. Obviously things didn't quite pan out that way, but I don't think this speculation was that far off the mark.
Some have speculated that perhaps "One More Day" will see some kind of reconciliation - or at least a bargain - between Tony Stark and Peter Parker, leading to his absolution of any crimes involving the Registration Act and therefore making him a "free man" - presumably for the sake of Mary Jane and Aunt May. I think it's likely that this will end up being the case. This will, of course, cause the anti-reg heroes (such as the Secret/New/Whatever Avengers) to see him as a traitor to the cause, putting him at odds with that side. On the other hand, I don't imagine that Peter will fancy being SHIELD's lapdog again, so perhaps the bargain will come with some degree of autonomy for Peter, thus leading to a certain isolation from the pro-reg heroes and the Initiative. Thus, Peter's "loner" status has been effectively restored without completely hitting the "reset" button.
But what of the marriage? This is the question that Quesada promises that this "ground-breaking" story arc will settle once and for all. So what becomes of it?
Well, we know that Mary Jane can't die, and the two can't divorce. Quesada has said as much and, while you can't normally trust a word that the man says, this statement holds some validity. After all, making Peter a widower and/or a divorcee "ages" the character, and idea of undoing or otherwise vetoing the marriage is all about restoring that younger paragon of the character. So what happens to the marriage?
Honestly, I can't begin to know. Aside from some kind of mystical mind-wipe, I don't know if there's any way to actually put an end to the marriage without death or divorce (maybe I'm just uncreative in that way). Unless Joey is pulling the wool over our eyes and plans on using this story to show us why the Spider-Marriage is awesome in a sort of enormous practical joke, I can't begin to wonder about the outcome of this particular storyline.
I suppose only time will tell. This time next year, will we see a Peter Parker dealing with the loss of yet another love of his life? Will we see the marriage of Peter and Mary Jane reinvigorated? Who knows?
I certainly don't.
But enough of my barely-coherent ramblings - what do you guys think? I want to hear your thoughts on the current state of Spider-Man, the marriage, and any kind of "One More Day" speculation you have to offer.
Thoughts?
-M