Warning:
some portions of this entry are decidedly
NSFW
.
Okay, so I lied.
But only a little bit.
I said I wasn't going to say anything about
Heroes for Hire
#13, and I didn't intend on doing so.
I've also avoided talking about the now-infamous "Mary Jane doin' laundry" Comicquette statue because, like the
Heroes for Hire
cover, I really don't feel I've much to bring to the table that hasn't been said by others in a more articulate fashion than I could muster.
And even now, this post really isn't about that. It's more about Marvel Editor in Chief Joe Quesada and his crazy antics.
The Fortress Keeper wrote an
interesting response
to Quesada's comments on
Heroes for Hire
#13. I threw in my two cents over there, but really, I went along my merry after that. It wasn't until I found the latest
New Joe Fridays
column from Newsarama that I was reminded of what a ridiculous huckster Joseph Quesada is.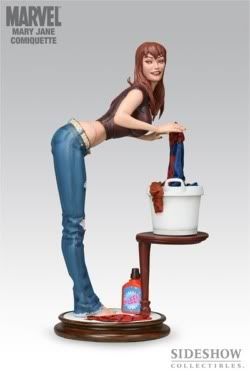 First I'll begin with Quesada's response to the Mary Jane statue, the least offensive of the two:
When fans saw the statue was exactly the same time I was made aware of it, I have no involvement in that stuff and haven't kept up with the brouhaha. It kind of floors me in a way because Adam Hughes is brilliant and is known for his amazingly sexy portrayal of strong women, so I'm not quite sure what people are up in arms about? Seriously, fill me in because I've literally been out of town and out of the loop.
Quesada avoids the issue here by referring not to the statue itself, but to the art that the statue is based off of. My understanding is that the original
Adam Hughes art
wasn't seen as all that bad, and have seen some even refer to it using the word "cute." My understanding is that the issue people have with the statue is the slightly overexaggerated anatomy (Tom Foss used the term "
terribly stretched-out
," which I think is fitting), the well-placed rips in the jeans, and the ridiculously high thong peeking out from underneath the low-rider jeans.
I might be able to buy that Joe wasn't really aware of the statue until it was actually finished and ready to be solicited, but he's not really responding to the issue. By referring to the art the statue is based on as opposed to the statue itself, he's kind of misleading people. The Adam Hughes art is a bit sexist in the way that pin-up girls of the 1950's were, but it's not really that bad (in my estimation). It's the
statue
that people are up in arms about, Joe. The statue.
Immediately following that response, Newsarama asked him to respond to the
Heroes for Hire
controversy:
First, I think people are reading way too much into that cover than was ever intended. I heard terms such as "tentacle rape" being thrown around when that in no

way is what's happening, nor does it happen in the book. Those tentacles are the arms of the Brood who appears in the issue and is a major story point, the Brood have tentacles, sorry about that.

Secondly, the concept for that cover, soup to nuts came from a female artist. Thirdly, not being a deep follower of manga, I have no idea what recurring theme people are referring to or concerned with. While I appreciate the sentiment and the feelings that some may have about this, I honestly feel that there is way too much being read into this cover.

Also, HFH is a book that features two strong, lead female protagonist who kick major ass; somehow folks have forgotten to focus on that.
There is so much wrong with this response that I don't really even know where to begin.
Firstly, I don't buy the fact that Joe Quesada has never encountered "tentacle rape." I'm not saying that in any kind of derogatory slight against his character; just that, as the gatekeeper of the Marvel Universe and therefore each and every pop-culture icon contained therein, whose stories are told in a medium that's often associated or at least connected with anime and manga, I find it hard to believe that he's never once come across any instances of the tentacle rape phenomenon.
I'm willing to give him the benefit of the doubt and accept that it's possible, though - but in that case, when he heard of the fan outcry, why didn't he take any steps to actually find out what tentacle rape actually
is
? His stance is, essentially, "I've never really encountered this, so I don't really get why people are so upset." This is your readership, Joe. You should take it upon yourself to
figure out
why the fuck people are so upset and respond adequately.
So what
is
your response, Mr. Quesada? "Well, um, the tentacles belong to the Brood! And no actual rape takes place in the book! And these girls are kick ass!"
Ridiculous. Firstly, does the fact that the tentacles belong to the Brood even matter? Would it be more offensive if it were some anonymous monster or perhaps an octopus? The issue people have is not to whom the tentacles actually belong; rather, the issue is with what it seems blatantly obvious the tentacles are
doing
and not who they belong to.
And doesn't the fact that these girls are supposed to be "kick ass" make this cover all the more appalling? Sure, these girls kick ass left and right, but as has been explored ad infinitum, they, like many comic book heroines, find themselves in a compromising position that no self-respecting male character would find himself in (which opens the door for an entirely different kind of exploitation that I'm not prepared to discuss in this particular post).
Seriously, Quesada. How can you look at this...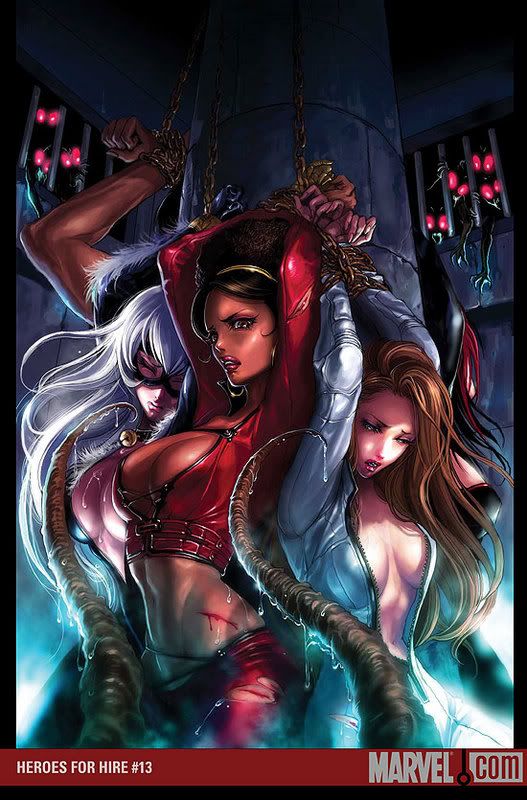 ...and then compare it to stuff like this...
...and
NOT
see the problem that people are having with this particular comic book cover?
Seriously. I mean, at the very least, that hentai DVD cover at least has a warning label: "Guess what, Mom? Don't buy this for your fucking twelve-year-old!" And yet, Marvel continues to label
Heroes for Hire
#13 as a teen (13+) book. Perhaps the content itself is more than suitable for any Little Johnny or Sally to pick up and read, but you wouldn't know it looking at that cover.
Seriously!
Look at it
. It's like publishing an issue of
Amazing Spider-Man
featuring Mary Jane or the Black Cat with a big, cheesy grin and a face covered in sticky white fluid on the cover, and then going public and saying "Come on, guys! It's
obviously
web fluid! What's the big deal?!"
These two little comments say a lot about where the head of Quesada and therefore Marvel is at these days. Firstly, it's a boys club. Sure, they're fully willing to put out quirkly little titles like
Spider-Man Loves Mary Jane
in order to draw in the tween girl crowd, but when it comes to a mainstream title rooted in the proper Marvel Universe, there's little, if anything, on the surface that would or should appeal to any female reader. Secondly, the fact that Quesada is completely unwilling to do anything but defend, defend, defend, and sell, sell, sell, as opposed to actually taking the time to address the issue at hand does nothing more than enrage intelligent readers - male and female - and show everyone exactly why he's qualified for little more than hype. Thirdly, that he's unwilling to do anything about it whether or not he actually gets it - change the cover, slap a "mature readers only" label on that one issue - shows that he's only looking at the dollar signs - because as we've seen various times in modern comic book history,
hype sells and so does controversy
. Add those sales to the sales you were already guaranteed with the regular readership and the misinformed teenage hormone bomb, and you've got an issue of
Heroes for Hire
that's poised to sell a hell of a lot more copies than originally anticipated.
I just wish that, for once in his career, Quesada would address the readers intelligently. As opposed to deflection, what about
actual conversation
? Then you might get to the root of the issue and figure out exactly what people are so up in arms about. And be willing to concede, dammit! When you or your company is in the wrong,
fucking admit it
. By constantly putting a positive spin on the negative or refusing to acknowledge it altogether, you prove to your readership that you're stupid, stubborn, or both. And when you wonder why it's so hard to obtain new readers, especially female ones, you really don't do anything but promote that idea in the minds of the readers.
Whew. That kind of took on a life of its own there.
I'm done ranting. I'm glad I decided to post about this after all - I feel better now that I've gotten all of that unbridled rage off of my chest...
-M