I wasn't a big fan of 24's sixth season. I didn't talk about it much here, but in my semi-regular user reviews over at
TV.com
, boy oh boy did I rip into that show on a weekly basis. I've been optimistic about season seven, however, since it seemed as though the writers of the show heard the cries of fans and decided to do something about it. Although we won't be able to say for sure until the season actually airs, it seems to be that a smaller threat and an exorcism of the seriously-overstayed-its-welcome CTU are definitely steps in the right direction.
And, on a pure fanboy level, FOX has let slip a nugget that makes me a very happy fan.
It's
majorly spoilerish
, so I've placed a buffer image (a la our good friend
Mike Sterling
) for those who don't want to take a look. For those that do, read at your own risk.
Seriously.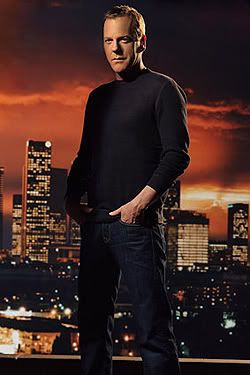 According to whoever wrote the press release for the new season (and
promptly reported on
by TV.com):
Bauer's day gets off to a shocking start when former colleague Tony Almeida (Carlos Bernard), last seen in 'Day 5,' returns after being left for dead by a terrorist conspirator in CTU's infirmary.
This is very interesting stuff. I mean, yeah, Tony is supposedly dead, but in my mind it was always very unclear and there are a lot of ways to explain it away. I suppose we should have seen something like this coming, what with the fake ending (or was it the original ending? I forget) of season six, which was to have featured a cliffhanger ending on Tony's return.
This makes me pretty happy. Even though season five was one of the better seasons of the show's run, I think it sort of doomed season six in a way because, with so many characters dead and so many zany plot twists that made sense, it was hard to get into the plot (which was pretty hard to believe at times) and it was pretty hard to care about the characters, since so many of them were brand new and so many of the characters who made it into season six were either incredibly boring (Bill) or had somehow become so in the off-season (Chloe).
Plus, I've always liked Tony. He was sort of the "office" version of Jack, his counterpart in a way. Killing him off, and so unceremoniously at that, was incredibly shocking, but I've always thought it was a bad idea, and I'm glad it's something they're rectifying.
I'm still very skeptical about this upcoming season, but I'm really,
really
hoping that the writers can make it fresh, exciting, and
interesting
again. I like to think that the return of Tony Almeida is a step in that direction.
-M