Before I hit up my LCS last week, I had gone a good six weeks or so without picking up my books, if not more.
Sometimes that happens, after all. Bills and other expenses pile up, and soon you just can't make it out to the shop.
So I'm really late in actually getting around to reading some of these books. I think I may share thoughts on a majority of them at some point (hopefully soon) but for now I'm just going to go with one, and it's pretty damn late, but it's one that's close to my heart.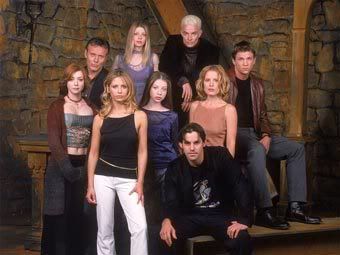 I grew up with
Buffy the Vampire Slayer
. Many a Tuesday night during my rough and awkward high school years were spent in front of the telley, watching the latest
Buffy
epic from the folks at Mutant Enemy unfold.
To the rest of my friends, I was what you might call a Buffyverse connoiseur. I still remember the name of the guy Faith accidentally killed in Season 3's
Bad Girls
(Deputy Mayor Allan Finch, by the by). I know the general history of Spike, Angel(us), Drusilla, and Darla. For a time, I could recite the name of each episode (of both shows) in order. When Buffy died at the end of
The Gift
, I don't think I cried, but the next morning I saw the world just a little bit differently.
I think it's safe to say that I was obsessed.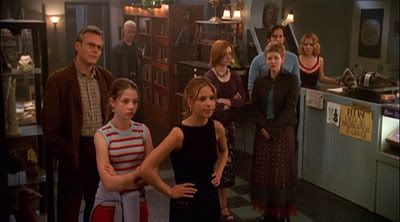 I can't pinpoint an exact reason I was so in love with Buffy Anne Summers and her adventures. They were intelligent. They were funny. They were grand, but personal. They were dramatic and compelling. And whatever otherworldy tomfoolery was going on, the characters were
real
.
The show had amazing, believable characters - even villains. As time went on, these characters learned and grew and...
evolved
while remaining the same at their core (as we so often do).
I think it's safe to say that
Buffy the Vampire Slayer
is what introduced and fostered my love of serialized storytelling. The idea of a story that didn't wrap up by the time the credits rolled, but instead moved on to the next episode (and the next and so on), featuring the same characters growing and changing, was something I'd not encountered at the time.
Without
Buffy
, I doubt I would care about good storytelling in general - and I definitely wouldn't care about comic books.
When
Buffy
ended in 2003, I was saddened. The kind of sad that you feel when you part with an old friend and you know you may never see them again. Watching the final scene with the survivors of Sunnydale staring in awe at the crater that was once their home felt like the end of a journey - not just for the characters, but for me as well. I was sad. But it felt...right. It felt like it was time for the characters to move on.
But that doesn't mean I wanted it to
stop
.
When Joss and Dark Horse announced a year or so ago that Buffy was coming back in comic book form, I was stoked. I've been eagerly anticipating this day for a year, and now it's here.
I've never been a fan of the
Buffy
comics. To me, they've always felt derivative at best and just plain bad at worst. Even IDW's
Angel
books, which I've been slowly but surely coming around to as the quality has increased, have left me feeling underwhelmed. Maybe it's the writing, maybe it's the art. Maybe it's the fact that part of the thing that works so well about the Buffyverse is the actors portraying the characters. I don't know what, but there was always something.
I don't have any of that here.
Right out of the gate, I feel like I'm home. The characters - well, Buffy and Xander and Dawn, as they're the only "regulars" we see here - sound pitch perfect, which makes sense considering who's at the helm.
Joss smartly takes what happened at the end of
Chosen
(as well as the limitless budget of the comic book medium) and runs with it. Our girl Buffy is no longer a girl taking down evil one danger at a time - she leads an army now. She's in the big leagues and she's got the artillery to prove it.
This issue feels like the first act of a television script, but that's okay. It's a first issue and there's bound to be a lot of set-up. I'm really loving a lot of the story elements we're introduced to here - the aforementioned Buffy army, Xander as de facto Watcher, and giant Dawn (wtf?) to name a few.
I think my favorite, though, is the involvement of the United States government. I was always a fan of the Initiative from Season 4, even though a lot of people disliked it. And it makes sense that something as enormous as the destruction of an entire town would draw in some government attention. I'm very interested to see where this goes.
Georges Jeanty's art, as you can see, is beautiful. 'Nuff said.
My only real gripe here is Amy. I imagine we'll get her motivation for wanting to get rid of Buffy sooner or later, but as it stands, Amy has never been the "supervillainess" type. The worst thing she ever really did was turn Willow into Warren (
The Killer in Me
- ugh, what a bad episode), and even then that was more Willow's subconsious, if I recall. And that was really about as bad as it got - before that, all she really did was hang around and be a rat and get into magic trouble with Willow in Season 6. I guess we'll see; I imagine it has something to do with this "boyfriend."
Despite any misgivings I may've had at first, I think it's fairly safe to say that I'm hooked. Thank you, Mr. Whedon.
Welcome back, Buffy. I've missed you.
-M